Did you know that Microsoft Word also makes an excellent blog editor? In fact, this post made using Word 2013. So how do you set up Word for blog editing? It is rather simple, albeit a little round about.
The process starts by opening Microsoft Word and selecting "Blog Post" as the template. This is the convoluted part, even if you are looking to edit and existing post you start by opening a new Blog Post template. Like I said, it is a little roundabout but certainly not difficult.
The first time you open a Blog Post template you will be prompted to register a Blog Account. This is a wizard-style process that takes just a few seconds to complete. Simply fill in the request fields and it will handle the plumping for you.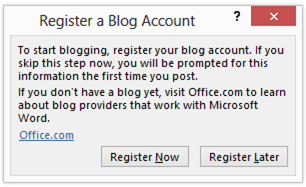 Most of the major platforms are supported including Blogger, Wordpress and Sharepoint. If your platform isn't in the list you can manually configure things by selecting Other from the list.
I've been looking for a replacement for the older Windows Live Writer for a while now. Some time back I gave Word 2010 a whirl (it also supported blog editing) but I found it lacking. Word 2013 on the other hand is quite a different story.